Laurie says:
When I was in Hawaii last month I saw a brief newspaper mention of an exhibition of silk art by Reiko Brandon in a  gallery space at Kapiolani Community College. How the work was made was unclear but it still sounded fascinating. I went to see it and found her work stunning.  It's made by unwinding silk worm cocoons and then shaping the incredibly fine threads into art.
This dramatic hanging was the first piece I saw.
Serendipitously when I went to see the exhibit there was a workshop to make squares for a display quilt that was attended by Sensei Akihiko Izukura from Kyoto, who is the master of this art. I was able to speak with him (through a translator) and later to talk to Reiko Brandon whose work I admired so much.
I made a square experimentally and realized that with time, my hand and design skills would work well with the both the technique and its concepts. Within the limits of the square you can do anything that you find beautiful. It's the kind of art within limitations that always appeals to me, and one could expand the concept into many shapes.
..

Me working in shadow.
..
My finished square before it was lacquered for permanency.  It's a flat board with nails in four corners. Nails can be placed to make any shapes you want.
Experiencing the technique gave her art a very powerful new dimension for me.
Reiko Brandon wrote about her art at the exhibition:
Cocoon Journey
This exhibition showcases my recent works created directly from silk cocoons colored with natural dyes. Inspiration for these pieces came from the one-year silk workshop given by Mr. Akihiko Izukura in 2012-2013. It was a most remarkable experience for me to observe the amazing life cycle of silk cocoons, from minute eggs to caterpillars, then to cocoons. One cocoon produces extremely fine, lustrous threads as long saw 3000 feet. Fragile, yet strong silk fiber responds beautifully to all natural dyes. It has been a delightful adventure working with silk cocoons.
..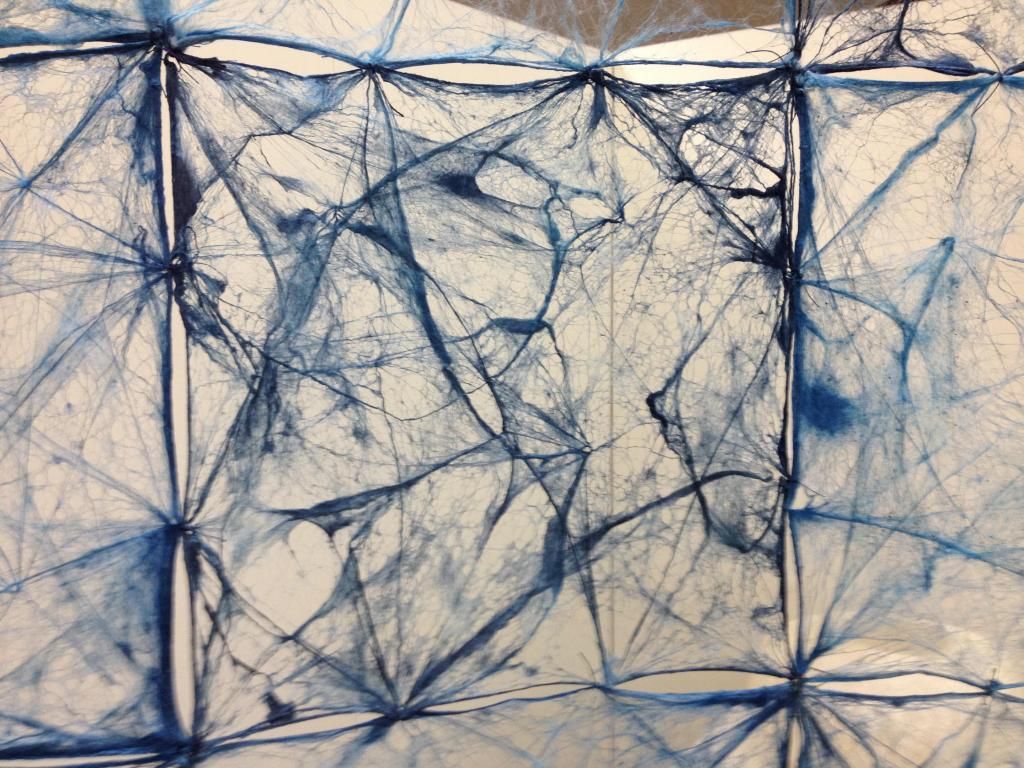 Close up of a silk square.
..
The square pieces in the show are made by hand-stretching cocoons softened by being immersed in water for several months. The largest, perhaps the most significant piece of this type, Square Cocoons, White was made from approximately 3500 silk cocoons. The various vessel forms are created by reeling a single thread directly from each boiled cocoon, then dipping them in natural indigo. Working with cocoons is a repetitious, time-consuming endeavor. It requires enormous patience, but it gives me a special pleasure, seeing and feeling the mysterious rhythm of nature.
..

Pots made from the silk thread.
..
I doubt if there will ever be time in my life to learn this technique well enough to make good art but it was joy to experience it and see the work.